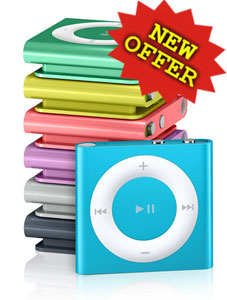 SUBMIT YOUR VIDEO TO WIN AN IPOD!!!
Upload a video of your installed Zip Wire that was purchased through Zip Wire Shop for a 1 in 10 chance to win an iPod Shuffle! We will select our favourite video out of every 10 videos uploaded to receive a free iPod Shuffle (only one video submission allowed per customer). The lucky winner can choose from any colour iPod Shuffle.
Click here to submit your YouTube video
Submitted By Darren Robertson
- 60m Python Kit
Check out some of our user submitted videos by clicking the thumbnails below.
Disclaimer: i) Entrants must have purchased a complete zip wire kit through Zip Wire Shop. ii) Only one video submission per customer. iii) All videos will be previewed and authorised by Zip Wire Shop before going live on this page. iv) One winner will be chosen from every ten authorised videos. v) Winners will be notified by email and the winning video flagged on this page. vi) All final decisions will be made by Zip Wire Shop. vii) The prize is a brand new iPod Shuffle in the colour choice of the winner. viii) There is no cash alternative.