Wall Mount Bracket

It's no longer a problem if you only have one suitable tree in your garden to attach your Zip Wire to. Our wall mount bracket securely bolts to the corner of your building and acts as an ideal anchor point for your Garden Zip Wire (wall bolts not included).
Our corner mount wall bracket is specifically designed to spread the load of the zip wire across two sides of the wall and avoids the risk of the fixing bolts slipping.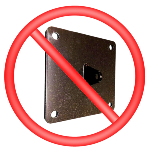 *IMPORTANT: Never use a flat plate wall bracket (of any kind) that fixes to a single surface of the wall. This type of bracket exerts all the forces in a single direction putting the fixings at great risk of slipping out of the brickwork. This type of wall bracket is NOT suitable for zip wire use.